Creating Chemistry in Her Community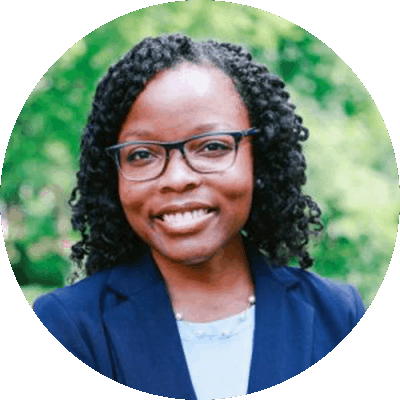 For Klarissa Jackson, chemistry is personal. After all, her mother taught her high school chemistry class. Her physician father practiced psychiatric medicine. Today, Jackson is an assistant professor in a field that appears to overlap those: pharmacological research.
"How does our body process drugs? That's what I'm interested in," says Jackson, who in 2019 joined the faculty at the University of North Carolina at Chapel Hill's Eshelman School of Pharmacy in the Division of Pharmacotherapy and Experimental Therapeutics.
But it was back home in Tyler, Texas, that her father had encouraged her to attend pharmacy school. While earning her bachelor of science degree in Chemistry from Jackson State University in Jackson, Mississippi, she interned at the likes of Merck & Co. and Rice and Vanderbilt universities.
During those summer research stints, she realized she wanted to go into drug research rather than practice pharmacy.
Nowadays, she works inside and outside her lab to develop other kinds of chemistry: she not only encourages women and women of color, but also studies how drugs interact with individuals in communities disproportionally affected by certain diseases, namely liver, kidney and breast cancers. She's studying drugs for those treatments.
"I want to be successful as a scientist, a researcher and an assistant professor. I hope to continue to grow in that, but also thinking about, how do I give back to my community in a way that is meaningful?" she says.
She does that largely through mentorships. "Mentor" and "mentoring" appear 73 times in her 28-page CV. Mentors helped guide her to her doctorate in Pharmacology from Vanderbilt and her postdoctoral fellowship at the University of Washington School of Pharmacy in the Department of Medicinal Chemistry.
Today, she relishes her role as a mentor. In her research lab, she works with graduate, undergraduate, and pharmacy students, while also guiding students at Lipscomb University in Nashville.
"If I notice in that process that a student has some weaknesses or feels less confident in their math skills. I like to focus on that," she explains. "I like empowering learners, I like learners to feel confident in what they're doing it."
A collage on a wall in her office illustrates her effectiveness.
The photos show two students who presented at conferences she encouraged them to attend. Jackson, who has earned multiple student travel awards from the likes of the Annual Biomedical Research Conference for Minoritized Scientists and the American Society for Pharmacology and Experimental Therapeutics, has also helped others garner those, too.
Those two students went on to medical school, she says: "I mean, you can see the pride on their faces, right? You can see the joy on their faces."
She says she also makes a point of recruiting not just those from ethnically and culturally diverse backgrounds, but those who show excitement about scientific research.
At the same time, she seeks to integrate her work in science and her interest in the "well-being of our community, the African-American community in particular," she says.
"We've got to, as scientists, make sure those people are represented in the work that we do," she says.
Noting that research sciences suffer from historical suspicion in U.S. minority communities, she says, "I think it's really important that we be proactive and intentional about establishing trust."
She acknowledges that, taken together, all of these challenges—from research and outreach and from recruitment to trust-building to mentoring—sound formidable.
"But if no one starts, it doesn't get done," she says. "There are other people out there who are doing the work, but I really think everybody's got to do their part and take the initiative because if it's overwhelming and it sounds like, 'Oh, that's too big for me to do,' then who's going to do it?"
Klarissa Jackson, PhD, is a member of the American Society for Pharmacology and Experimental Therapeutics, a FASEB member society.