Diversity, Equity, Accessibility,
and Inclusion
Commitment. Transparency. Impact.
FASEB works with member societies to ensure a diverse and representative workforce in the biological and biomedical sciences. We believe a stronger, broader, and deeper talent pool drives success.
Ensuring workplace diversity requires leadership, accountability, continuous self-reflection, and a long-term commitment. That's our core mission, our vision, and our shared goal.
DEAI Programs
Our diversity and inclusivity programs for working scientists throughout the life sciences reflects our vision to build a scientific workforce that more fully reflects our increasingly diverse nation.
Statements
FASEB is committed to providing all who work in support of the Federation's mission with safe and collaborative environments. FASEB's mission can only be attained when there is mutual respect among leadership, employees, volunteers, and other stakeholders. Therefore, no form of discriminatory behavior, sexual or verbal harassment, intimidation, or assault, is tolerated at FASEB facilities, during FASEB-sponsored or managed events or among staff, volunteers, or other attendees.
George Floyd. Breonna Taylor. Ahmaud Arbery. Three more names that have been added to a sickeningly long list of Black people killed as a result of racism in the U.S. The Federation of American Societies for Experimental Biology (FASEB) joins the nation in mourning the senseless loss of these and the lives of far too many other victims of race-based violence. As advocates, we strongly support the peaceful protests and demonstrations that spotlight overt inequalities still rampant across our country.
This is a time for collective reflection and soul searching and an opportunity to reassess FASEB's contributions not only to the scientific community, but also broader social conversations. Our conclusion is simple: We must do better. There is much work to be done to truly foster diversity, equity, and inclusion, within the scientific community and beyond.
FASEB recognizes the disproportionally high toll the Black members of our community face and commits to do more to combat discrimination, harassment, and racism within our community.
This will require dedicated and sustained effort, and results will not be immediate; however, it is critical that our community helps amplify the voices that have been silenced as a result of systemic discrimination.
FASEB joins the nation in mourning the lives lost in the past week as a result of mass shooting events. Even more disconcerting are the racial undertones of the Atlanta-area shootings, in which six of eight victims were women of Asian descent. Sadly, this is one event in an increasing number of racist actions directed toward the Asian American and Pacific Islander communities. FASEB rejects all attempts to blame individuals of Asian ancestry for the COVID-19 pandemic and condemns discrimination, violence, harassment, and racism within our community.
Much work remains to truly foster diversity, equity, accessibility, and inclusion within the scientific community and even more to address discriminatory actions directed toward individuals of specific backgrounds. To highlight the negative impacts of anti-Asian racism and racism toward other communities of color on the scientific community and beyond, FASEB supports the #StopAsianHate National Day of Action and Healing on Friday, March 26, 2021, and encourages the research community to take this time for collective reflection and action in solidarity.
FASEB is committed to fostering diversity, equity, accessibility, and inclusion (DEAI) in the biological and biomedical sciences by:
Promoting DEAI within the Federation staff and volunteer workforce and its core missions
Supporting member societies' DEAI efforts
Establishing collaborative partnerships outside the Federation through the development of initiatives, projects, and resources
Obtaining funding that will sustain FASEB's overall DEAI mission
Strategic Vision
Since its establishment in 2019, the Diversity, Equity, Accessibility, and Inclusion Committee oversees the execution of the following FASEB DEAI Strategic Plan goals:
Organizational Excellence
Research and Education
Public Engagement and Collaboration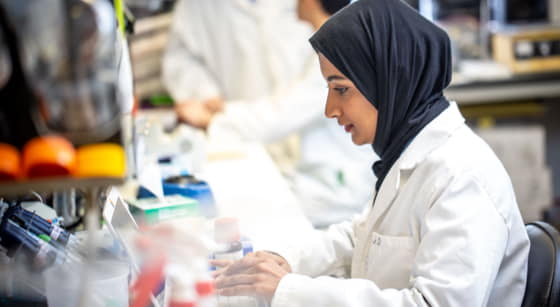 Faces of FASEB
FASEB strives to bring the power of diversity to life—where people of all backgrounds and experiences thrive professionally and personally in every environment.
#FacesofFASEB

Channeling a Fascination with Genetics
Tuning into crime scene television shows helped Marco L. Leung channel a fascination with genetics.

Creating Chemistry in Her Community
Klarissa Jackson works inside and outside her lab to develop other kinds of chemistry.

History Moves a Scientist
Science moves history, but sometimes history moves the scientist. That's the case with Khalid Garman.